NV Broker & Associates
Luxury Highrise and Home Specialists
100 S MARYLAND PARKWAY SUITE 210 LAS VEGAS, NV. 89101
Marissa Harman 702-748-2377
Leasing in Las Vegas
Use the menu above to jump quickly to the bulding you are interested in.
ALLURE
Allure is located just off Las Vegas Blvd on Sahara and is a tower designed to impress. You'll find traditional style condo layouts with hardwood or tile flooring and most with dual masters. Studio units are the best laid out of the highrises with walk-in closets, oversized bathtubs and balconies stretching the entire length of the home. You'll enjoy some of the best views of the mountains and strip from this fully self-contained property. The building features a gym and pool deck on the sixth floor along with a lounge space, boardroom and business center for residents to host a party or conduct business. Allure has a social calendar with events from yoga to game day on property monthly. You'll also enjoy being strategically located next to the Lucky Dragon Casino and a short walk to the SLS Hotel and Casino.
200 Sahara Ave
Rental rates start at 1150/monthly and include water, sewer, and trash 
SKY LAS VEGAS
Sky Las Vegas is on Las Vegas Blvd across from the SLS Hotel and Casino. Sky has a guard gated property entrance that opens its double gates to have cars ascend a hill to the top of the valet and lobby entrance. Just off the lobby, you'll find a resort style pool complete with cabanas, BBQ area, a putting green and a dedicated pet park. You won't be pressed for something to do at Sky as the building amenities boost a billiard room, banquet space, movie theater and racquetball court and of course, Sky has fully equipped locker rooms with a wet and dry sauna plus a gym. Units here are traditional condo style, most with galley kitchens in the one and two bedrooms. You can enjoy premium strip and mountain views from your balcony. Recently some of the units have upgraded to include grey tone hardwood flooring and fresh light grey tones of paint but you can still find a mix of carpet, wood and tile flooring throughout.
2700 Las Vegas Blvd
Rental rates start at 1250/monthly and include water, sewer, and trash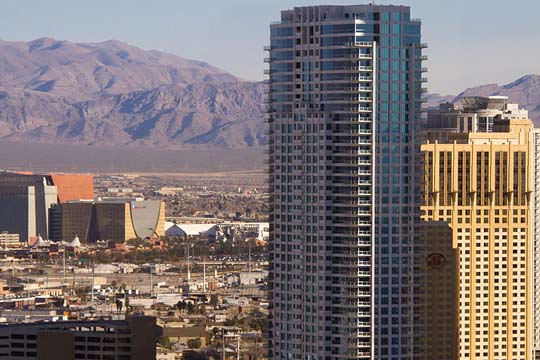 TRUMP TOWERS
Trump stays on the cutting edge of keeping things predestine and boasts some of the most well-manicured grounds in Vegas. From the chandeliered grand lobby to the glittering gold elevators you'll want for nothing at this full-service condo-hotel property. You can order up room service, sip drinks poolside or head to the on-site spa, gym, salon, bar, and restaurant. All the rooms have a modern look and feel with oversized and over the top bathrooms to write home about. Located on the strip and just across from the Fashion Show mall.
2000 Fashion Show Dive
Rental rates start at 2000 monthly and include all utilities, cable, and internet.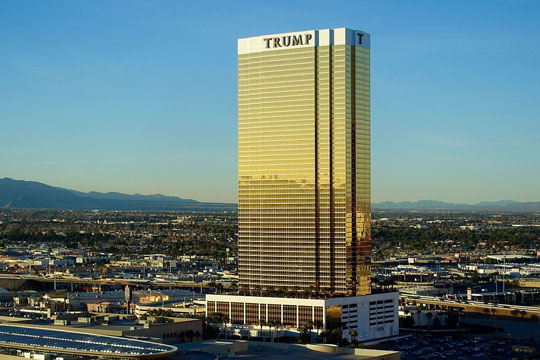 SOHO LOFTS
Soho is in the heart of the 18B Art's district in downtown. Here you'll find artist worthy loft spaces with lots of light, exposed industrial elements, and polished concrete floors. The amenities include a rooftop pool, hot tub, sauna, sleek gym, a 24-hour doorman, fob entry, security cameras and gated garage parking. You'll also find a gourmet sandwich shop, an attached bar, a salon and some open commercial space that could be just about anything. The building boasts some of the best views of the downtown city and the strip. Soho also offers some of the largest floor plans in downtown that rival most single-family homes in terms of square footage, nearly all the units have two full baths and two walks in closets.
900 S Las Vegas Blvd

Price starts at 1650/monthly and includes water, sewer, gas, and trash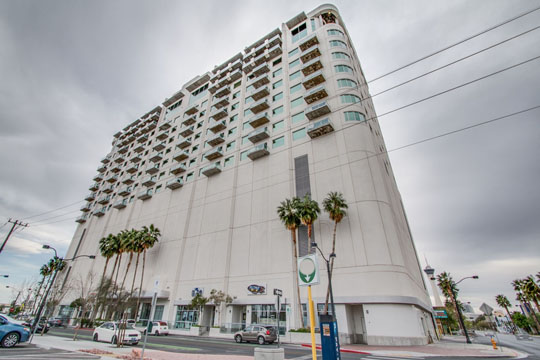 The Ogden
The Ogden is known for it's Las Vegas Blvd address and it's close proximity to Fremont street. You are close to pretty much all the major events that happen in downtown not to mention the building houses commercial space on the ground level with its own restaurant, salon and more. The units are more of what you'd expect from a traditional condo and have been upgraded to stainless steel appliances, have wood flooring and very functional floor plans. You can opt to get a mountain view here or a strip view from either side of the building. A few units on lower floors have oversized terraces instead of balconies which is great for entertaining. If you don't manage to score one of those units, not to worry, there is a rooftop terrace with BBQs, seating and strip views. Don't forget to check out this high rise rooftop pool deck as well.
150 N Las Vegas Blvd

Price starts at 1400/monthly and include water, sewer, gas, and trash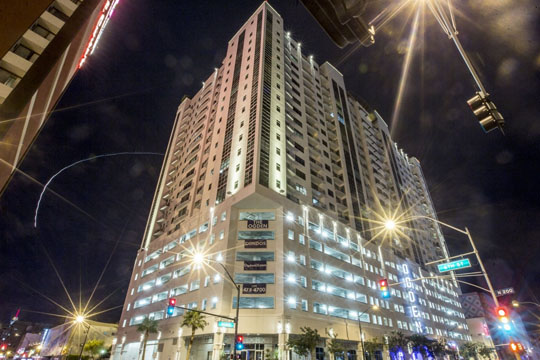 JUHL
Juhl is one of the largest properties in downtown covering a whole city block! You'll find the lowest starting points to rent in downtown. Typically speaking the floor plans are the smallest of all the downtown high rises but with oversized and over the top amenities and lots of commercial tenants this property is sure to a place you'll love calling home. Juhl has a ton of different floor plans to choose but most are open loft spaces that inspire creative ways to define the rooms of your home. There is a two-story gym, a resort style pool, BBQ areas, outdoor theater, wine deck and communal workspace all built into the property. Juhl like Ogden has organized events and a social calendar so you can meet your neighbors and explore more of the downtown community.
353 E Bonneville
Rental Rates start at 1300/monthly and include water, sewer, gas, and trash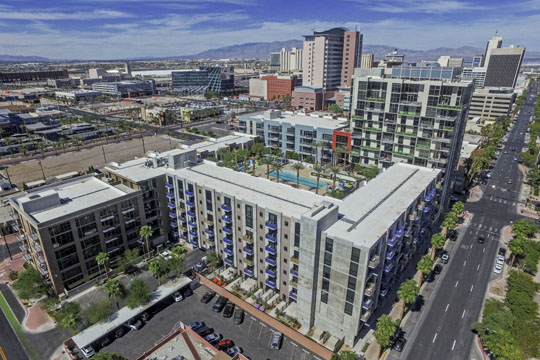 NEWPORT LOFTS
Newport can have a similar feel to Soho Lofts and with good reason, both were developed by Sam Cherry. You'll find open lofts with polished concrete flooring or wood flooring with a mix of exposed industrial piping, high ceilings, killer downtown and premium strip views. Newport's rooftop is what makes this building unforgettable. The rooftop has its own pool and hot tub overlooking the strip, a state of the art gym, a running track around it and an oversized event space to host a party in. Residents are also part of the 18B Arts District and enjoy being strategically located closest to the events of First Friday. This building is said to feel the most private with most owners opting to call it home only part of the time. You're also just far enough off the main parade routes in Downtown so it stays the quietest of the high rises in the area.
200 Hoover Ave
Prices start at 1450/monthly and include water, sewer, gas, and trash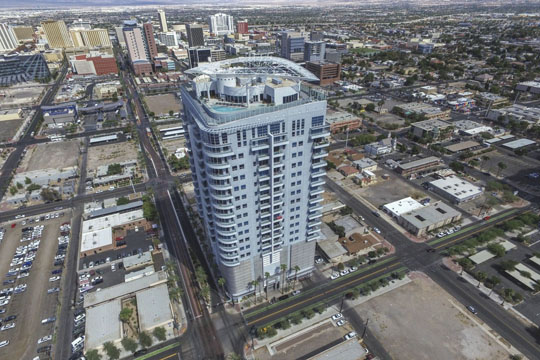 VEER
Veer Towers is an all residential building sitting on Las Vegas Blvd in front of the Aria Resort and Casino. Veer is made up of twin leaning towers that are a mirror image of one another. Each tower veers at a five-degree angle hence the name. Studio units start at 540 square feet and you can find over a dozen floor plans for one, two, three bedrooms up to the customized penthouse units. The sky deck of this building has an infinity edge pool and hot tub that overlooks the Las Vegas strip. You can also BBQ or sun worship in the cabanas on this level. The building completes its amenities by offering a full-service concierge, valet parking, a boardroom, business center, movie theater and resident lounge. You'll enjoy views of the city center and the strip from every direction. Veer also is a LEED certified building meaning your utility bills are super low, think 20/monthly for a studio.
3726 & 3722 Las Vegas Blvd South

Rental rates start at 1400/monthly and include water, sewer, trash, heating, and cooling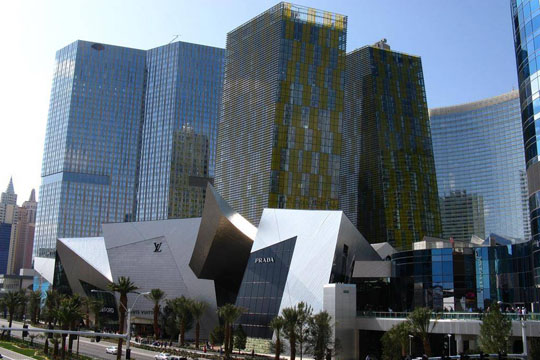 Waldorf Astoria
Waldorf Astoria is located in the heart of city center on the Strip and has one of the most coveted addresses of any of the high rises. Here you'll find modern, sleek and minimalist style floor plans with organic elements such as hardwood flooring, stone counters and light airy windows. The property is a hotel on the bottom level and completely residential on floors — and higher. You'll enjoy hotel inessentials such as room service directly to your unit, valet parking  and a full service concierge. The property is the essence of luxury living with multiple dining options for every taste, a high tea room, spa, a salon, fully staffed pool and a strip view bar. A quick elevator ride from your front door puts you on the Las Vegas Strip.
3750 Las Vegas Blvd S 
Rental Rates start at 4500/monthly and include water, sewer, trash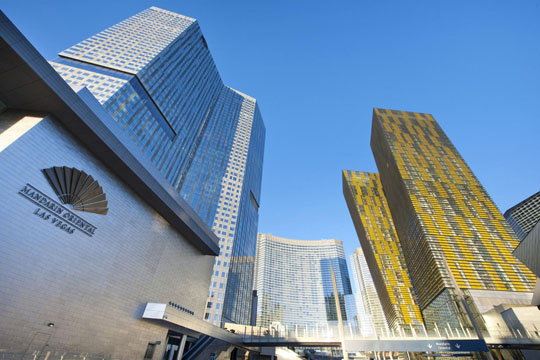 VDARA
Vdara is unlike any condo-hotel property in Las Vegas. The moment you walk in you'll feel transported to a zen modern moody but ever upscale dimension. Vdara has a boutique hotel feel with a front desk staff that can take care of every whim. It has some of the most spacious suites with dark wood interiors, marbled floors, oversized walk-in showers and large freestanding soaking tubs. Most suites have a half fridge, two-burner stove top, and a wet bar. You'll find Strip views of the Bellagio fountains and picturesque mountain sunsets. If the rooms and views aren't enough to sell you be sure to check out the stunning gym, tranquil spa, and cabana adored pool.
2700 Harmon Ave
Rental Rates start at 2500 monthly and include all utilities, cable and internet.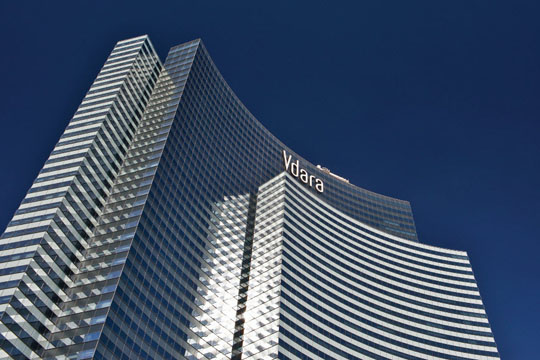 PANORAMA TOWERS
Panorama is the twin set of towers that stand just behind city center. You'll find traditional  condo layouts here with one, two and three bedroom options. You can pick your views based on which side of the building you want to live on. The east faces the strip and has views unlike any other highrise and the west faces the mountains where you're sure to catch a colorful desert sunset. The majority of units have hardwood, tile or carpet and nearly all have dark wood finishes with black countertops in the bathrooms and kitchens. If the units aren't enough to peak your  interest is sure to check out this properties twin pool decks and hot tubs enclosed with modern glass walls. There is a gym complete with a racket  ball court and the locked room boost indoor hot tubs and saunas. Mix and mingle with other residents in the billiard  room or the massive lobbies. There is a heavily guard gated entry and valet parking for guests. You can also grab a bite or drink close by as the building houses its own commercial tenants on site. Panorama offers a free limo service to its residents as well within a three-mile radius.
4525 &4575 Dean Martin Dr
Rental Rates start at 1350/monthly and include water, sewer, trash and gas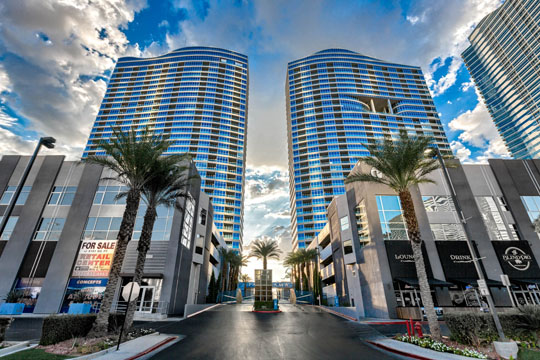 THE MARTIN
The Martin is an all residential building that sits just 585 steps from the city center on Dean Martin Drive. Most units here have two bedroom and two baths and Juliet balconies but a few offer balconies that stretch the length of the unit. You'll find killer end cap units with some of the best views of the strip and the mountains.  Martin has a full-service concierge, valet parking, one of the most well equipped high rise gyms, an indoor and outdoor hot tub, massage treatment rooms, BBQ areas, and a resort style pool deck complete with cabanas for lounging. The property also has a fireside outdoor lounge, a boardroom, and a communal library where coffee and tea are on tap. Don't forget about the resident mixer put on monthly at Strip properties enticing residents to sip and network with neighbors.Worried about walking to City Center this property offers a free black car service to its residents in a three-mile radius.
4471 Dean Martin Dr
Rental Rates start at 1850/monthly and include water, sewer, trash and gas
TURNBERRY TOWERS
Don't confuse the Turnberry Towers with Turnberry place, while they share a first name the properties are vastly different. Turnberry Towers has two towers that boost the essence of modern luxury living. Even the smallest units here are 840 square feet with granite counter tops, high-end appliances, wood or tile flooring, floor to ceiling windows and a balcony to enjoy the strip, mountain or downtown views. What makes this property unique is its location, it's right off paradise road and Karen ave which makes getting to the strip or the convention center hassle free.
222 & 322 Karen Ave
Rental rates start at 1500/monthly and include water, sewer, and trash
Turnberry Place
Turnberry Place is made up of four residential towers behind a heavily guarded gate on Paradise Rd. Turnberry Place is the original highrise of Las Vegas and keeps its prestigious reputation in tack with each of the lobbies decorated traditionally lavish with plush furniture, a real fireplace and marble touches throughout. The units themselves are a shop-a-holics dream with custom closets that are bigger than most highrise studio apartments. Every unit here has a balcony or a terrace and the majority have 360 views of the city or the strip. Each tower has it's own resident valet, gym, and an outdoor pool.
2877, 2857, 2747 and 2777 Paradise Rd
Rental rates start at 1450/monthly and include water, sewer, gas, and trash
METROPOLIS
If you love art deco with an industrial twist this is a property for you. It's construction and its lobby are unforgettable… Metropolis has floor plans that rival most single-family homes, in terms of square footage and often have two stories. You'll find a mix of almost every type of flooring options here from polished concrete, wood, tile, and carpet. The majority of the units look nothing like the last with most homeowners choosing to heavily customize. Kitchens here are oversized with real gas ranges. The property has some of the most beautiful views of the Wynn golf course and the strip. The red and black gym, golf putting green and waterfall-style pool are sure to keep you busy when you're not in your unit enjoying those views.
360 E Desert Inn Rd 
Rental rates start at 1700/monthly and include water, sewer, trash, and gas
MGM Signature
The MGM Signature is a world within a world, a private portal if you will, to all things Vegas. Whether you're grabbing a quick Starbucks coffee in the lobby or a signature drink at The Lounge or even basking in the private luxury of your own poolside cabana, you'll experience a level of attention and dedicated service that is unsurpassed. Truly, this is Vegas living at its best. Allow the concierge to serve your every whim, from show tickets to procuring a table at that must-experience restaurant to making your golf reservations. The rooms are modern and tranquil retreats making them the perfect escape for the gaming, nightlife, and entertainment of the phenomenal MGM Grand that is connected to this property via an air-conditioned walkway. Sitting just off the Strip it is easy to access from all areas of the city.
125, 135, 145 Harmon Ave
Rental Rates start at 2200 monthly and include all utilities, cable and internet.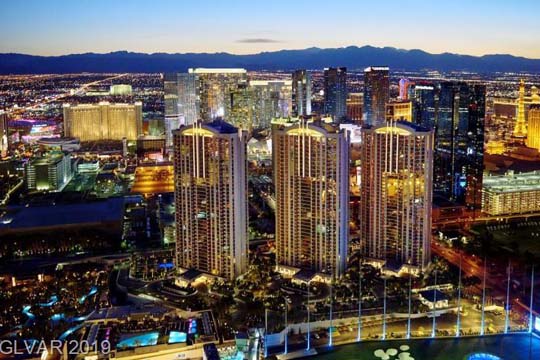 ONE LAS VEGAS
One Las Vegas is made up of two towers on the south end of the Las Vegas Strip. You'll find traditional one bedroom to three bedroom units here. Most have been upgraded to include sleek stainless steel appliances and wood flooring. You'll find a two-story gym overlooking the resort style pool area, cabanas to lounge in, a fireside pit to sit by and BBQ to grill up your favorites. This property completes the luxury living experience by offering a grand lobby entrance, full-service concierge, residential lounge, communal workspace and fob entry.
8255 Las Vegas Blvd
Rental rates start at 1300/monthly and include water, sewer, trash, gas, electric, basic cable, and internet
LOFT 5
Loft 5 is a mid-rise property just off the Blvd on the south side. It's a guard gated community surrounded by a wall. Residents here almost all have two or three story open loft floor plans. The kitchens are a chef's dream with oversized gas ranges, lots of counter space and of course plenty of bar seating. You'll find a mix of flooring options but the most common are hardwood in a variety of finishes. The property features multiple pools, fire pits, BBQ areas, a sleek and large gym, ample guest park, gauge parking for tenants, fob entry and air-conditioned hallways.
6546 & 2715 Pebble Rd 
Rental rates start at 1550/monthly and include water, sewer, trash, and gas
MANHATTAN
Manhattan is a midrise located on the south end of the strip. It is a grouping of four-story buildings surrounded by a guard gate who checks in all guests. Residents enjoy an indoor and outdoor pool and gym centered in the community surrounded by a series of large outdoor pools, BBQ areas and lush green lawns that give the community a very park-esq feel. Floor plans range from one bedroom two story lofts all that way up to three-story condo homes. Each building has its own underground parking garage, fob entry, elevator and indoor air-conditioned hallways. Price points are some of the most affordable options near the strip.
32 E Serene Ave
Monthly rental rates start at 1000 and include trash, water, and sewer
PALMS PLACE
Palms place is a condo-hotel that is connected yet strategically separated from the busy and bustling Palms Resort and Casino. The property is fully self-contained with multiple pools, a spa, a gym, tanning salon, movie theater, and restaurants to satisfy every taste and budget. You'll find trendy and moody lit hallways that lead to some of the most spacious units. Rooms are adorned with dark wood trims, white marble bathrooms and free standing tubs in the middle of the living space! Imagine yourself sipping some champagne in your bathtub while enjoying the views of mountains and city lights. Palms Place is conveniently located off the strip and close to the freeway entrances, Chinatown with easy access to the convention center.
4381 W Flamingo Road
Rental Rates start at 2200 monthly and include all utilities, cable and internet.